We are looking for good people to join our growing team!
Quality
We pride ourselves on exceptional work quality and paying close attention to detail. We are willing to train the right job candidates with successful customer projects in mind. Customer happiness is our top priority.
Integrity
Our team from sales, customer service, and marketing to our install teams work with the highest integrity. Honest, trustworthiness and good character are so important to the success of our business.
Positive Work Culture
We take care of our employees and have a fun and highly qualified team that works daily focused on a growth mindset. We arrive each day asking how can we be better? Based on customer and employee feedback we work hard to build a strong foundation daily.
How We Work.
Premier Concrete Coatings is a family-owned and operated business located in Sturgis Michigan.
We serve a 90 mile radius from White Pigeon in residential and commercial concrete coatings, polishing and more!
We take pride in providing our customers with the #1 Concrete Coating product and process on the market.
Quality, integrity and Incredible customer service set us apart from the rest.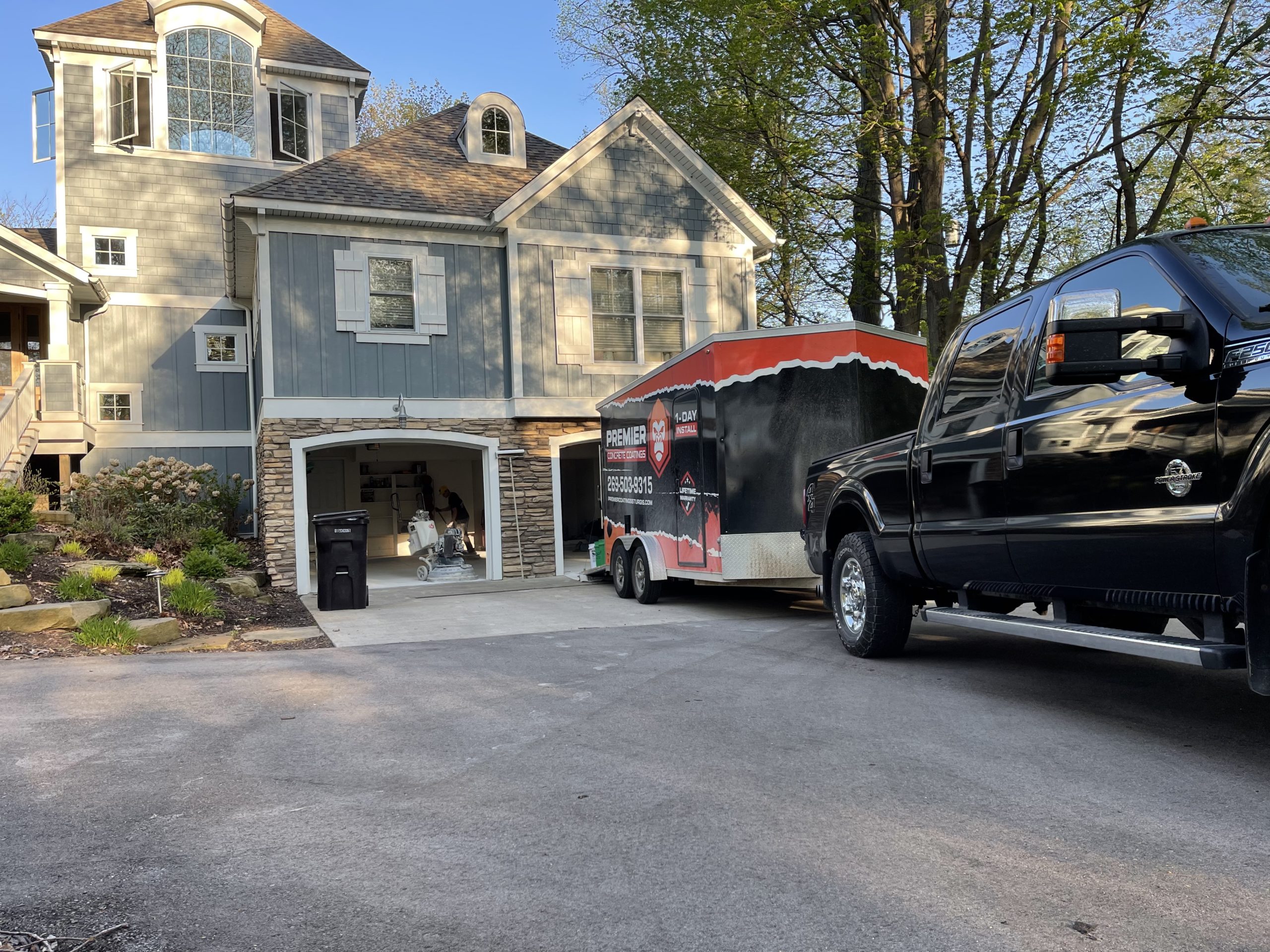 "Highly recommend this team for a place of employment.
Great culture and forward thinkers."
– Brent
Sales Representative
Do you have a background in sales? We are hiring!
We are looking for a driven, self-motivated Sales Representative that loves working both independently and in collaboration with our dedicated team!
The ideal candidate will prospect and generate new business as well as present to and build relationships with incoming leads.
This candidate should be able to communicate consistently with existing leads & clients while working on building new connections with future potential.
Responsibilities
Communicate with leads, meet leads to provide in person quotes, manage prospect communication, close sales and acquire new business

Service existing leads and clients- clear communication and relationship building is a must

Effectively demonstrate product line- we will train you in-depth about our exception concrete flooring services- in both product and process

Meet established goals for territory development and sales quotas Qualifications

2+ years' experience in sales with strong track record of success

Experience in developing and executing territory sales strategies

Strong presentation, negotiation, and closing skills

Self-motivated and able to work independently to meet or exceed goals

Live within a reasonable driving distance from Sturgis Michigan
Details
Flexible Schedule

Wrapped Company Car Provided

Gas Paid For

Plenty of Room to Grow

Industry Leadings Products
Apply to be a part of the Premier Concrete Coatings Family- locally owned and operated!
Lead Installer
We are looking to add Lead Installers! Are you someone who takes pride in working hard, being honest, and working for a company who believes in employee first incentives? As Michigans leading concrete coating company we pride ourselves on employee advancement and amazing pay/bonuses. Get away from your boring 9-5 and come join a team who is focused on making an impact in our community and moving you forward!
Full-time
$240 – $300 / day
116 S Centerville Rd, Sturgis, MI 49032
To Apply: submit the application on this page
Installer
We are looking to add to our install team!
We are a fast growing floor coating contractor in Sturgis MI! Great opportunity to advance within the company!
Must have: ✅ Great attitude ✅ Motivated ✅ Disciplined ✅ Hard worker Apply today!
Full-time

 

$200 – $240 / day

On the job training
To Apply: submit the application on this page.